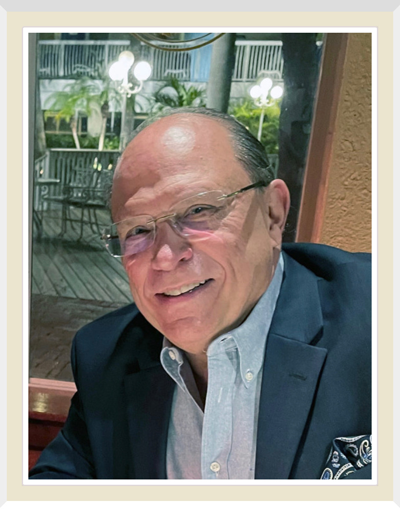 The Town of Redington Shores lost a great public servant less than 3 weeks ago. Commissioner Bill Krajewski's friends, family & neighbors are still reeling from the sudden loss. Please take a moment to read his obituary. It is hilarious, touching & bullseye accurate.
Obituary – William Joseph Krajewski
Born June 8th 1953 in Scranton, PA
Died April 7th, 2023 in Tampa, FL
Dedicated and beloved husband, father and grandfather, William (Bill) J.  Krajewski  is survived by his wife Johanna of 37 years, son Gregory (wife Catie), daughter Alexia and beloved grandson Nicholas John.
He was a man who had only two speeds, on and off.  When he was off, he was sleeping. When he was on, he gave it all and from the heart.  He lived life, like it was running away from him.  He expected a lot from everyone around him, but he always gave more.  Bill was passionate man of ethics, values and faith. He never accepted mediocrity. With Bill, you had to be giving your best at all times, because that's what he did every day.  Taking the ride of life with Bill wasn't easy, but it was worth it.  He was intense and driven and squeezed everything out of every day, there was no coasting for Bill.
When it came to his family, there wasn't a limit of how much time or how far Bill would drive in support of his children's education and activities.  Greg was Bill's athlete and Alexia was Bill's performing artist.  He adored, encouraged and supported their dreams.  Gregory's love of baseball and Alexia love of music came from their Dad.   Bill was at every baseball and hockey game, every school event and every Robotics competition.  From the moment Alexia began performing, he was at every theatre production, music recital and even flew to Italy for her Masterclass.  Bill was very much a man on a schedule, like making sure we were all up and ready for church on Sunday morning, NO excuses.  Though he lived his life with tremendous intensity, there were many wonderful fun family memories and road trips.  From the 4 hour Christmas Tree search to the slow boat to Paros, Greece, we shared an abundance of laughter and life.
One of the greatest joys in Bill's life came when his grandson Nicholas John was born. He loved playing with Nicholas and dressing up like elves for Christmas. Nicholas' smile would light up his Papou's face.
Bill was the son of William and Erminia Krajewski and big brother to his sister Rose.  He was raised in Scranton, Pa where he earned his BS at Kings College and later MBA in Finance from Fairleigh Dickinson University.  He began his career at Price Waterhouse, followed by a long career at Citibank where he co-authored two patents in the Data Privacy field and rose to Executive Vice President and Director.   Bill was at Marine Midland Bank when he met and married the love of his life, Johanna, in 1985.  This was the beginning of a lifelong journey of family, work, community and travel.  He worked hard, and unselfishly sacrificed his time for his family, friends and community.  Bill was always there for a friend and a friend was family to Bill.
He and Johanna retired to Redington Shores, Florida in 2016.   When they weren't traveling, Bill dedicated his life to giving back to the local community.  He volunteered countless hours at Church and in the beach communities.  Bill was elected Redington Shores District 4 Commissioner in 2021,  Chairman of the Gulf Beaches Library, and later founder and President of the Gulf Beaches Republicans.  Bill enjoyed people, a true networker and valued his relationships with everyone he met.  He was a man of family, faith and love of country.  Bill was bigger than life and he will be missed.  Though his memory will be eternal, the footprint he made in his lifetime made everyone around him better.
Friends and family are welcome to attend his viewing from 10 am to 11am Thursday, at St. Luke Greek Orthodox Church, 35 N. Malin Rd, Broomall, Pa 19008.  His funeral service will take place at 11am in the church.  His interment will follow the funeral service at Arlington Cemetery.
In Lieu of flowers, memorial contributions in William's name may be made to St. Jude's Children's Hospital or Guide Dogs for the Blind.