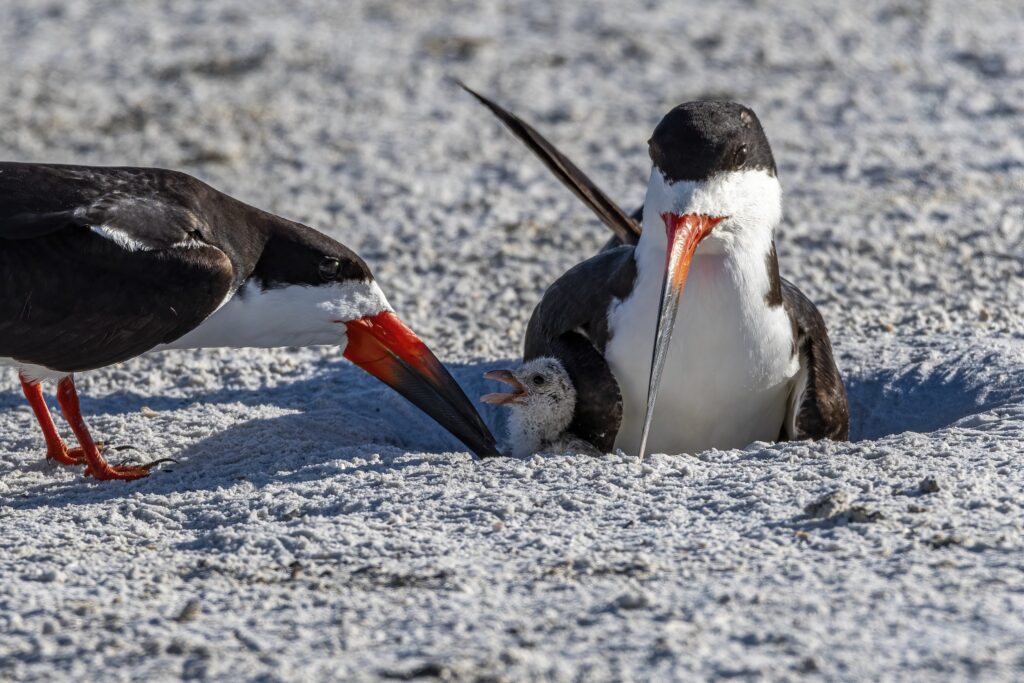 Black Skimmers have returned to our local beaches! These birds do not understand city lines, so instead of establishing their colony on Indian Shores this year they have laid their eggs within Redington Shores' boundaries. This is still the same colony you would see if visiting the Seaside Seabird Sanctuary the last two years, but they have moved just a bit further south to the Redington Shores Beach access. These colonial seabirds make "scrapes," or small depressions, in the sand where they will lay between 3-5 well-camouflaged eggs. And there are already chicks hatching! Audubon Florida staff and volunteers have installed fencing and signs around the colony to help protect the eggs and vulnerable chicks. Even with the fencing, Black Skimmers really need your help!
"That's a big colony!"
The colony this year in 2022 is much bigger than we're used to. At close to 600 adult skimmers, we have observed skimmers from the failed Clearwater Point colony join with this group. About half of the colony on St. Pete Beach has also joined up here. This is because the colony in Clearwater was located on a small spit that has been steadily losing sand. When we saw our first storm and high tide, the water washed eggs out of their scrapes and the skimmers left. The St. Pete Beach colony experienced so much disturbance last year from people and predators that some of the birds needed to find a safer location. You can help keep Redington Shores and other local beaches safe for beach-nesting birds.
Tips for Helping the Black Skimmers:
Keep your distance and respect posted areas. If the birds become upset, you are too close! Take a few steps back until the bird(s) have settled down. Signs and rope help keep people from accidentally stepping on eggs or chicks.
Avoid flushing birds. Chicks and their parents will start resting by the water to cool down. Walking, running, or biking through flocks will scare these birds, causing them to fly away. This could leave chicks unattended and vulnerable to predators and the hot sun.
Leave fireworks at home. Fireworks set off within 1,000 ft of the colony will flush skimmers off their nests and can cause abandonment of chicks, resulting in death.
Keep pets off the beach and away from nesting areas. Even the friendliest dog will spook an entire skimmer colony.
Avoid feeding wildlife, especially the gulls and crows. Also remember to throw away trash. Attracting predators near the colony puts the nests at risk for predation.
Spread the word! Tell others how they can help these incredible birds!
Want to get involved? Audubon Florida is looking for volunteer bird stewards to help educate the public during the busy weekends and July 4th holiday. If you are interested in learning more about the stewardship program, please email Holley Short (holley.short@audubon.org) or visit www.FLbeachbirds.org.
UPDATE: (6/13/2022)
Last year we only had one nesting pair of skimmers. This year, there are about 30 babies so far, with 60 anticipated! The Audubon Society is watching the area closely, keeping humans & crows away. Please make sure to keep a distance and avoid disturbing the skimmers! 🙂