From the Mayor's Desk:
To begin, I'd like to welcome our new Town Administrator Jeff Shoobridge. Jeff brings to the town a diverse set of skills, including town administration, business process improvement, and team leadership. He has quickly developed important relationships with both the town commissioners and staff, as well as effectively established partnerships with many of our neighboring towns and vendors. I am confident that Jeff will do a great job in this new role. If you haven't met Jeff, please drop by town hall when you get a chance to introduce yourself and welcome him to the Town of Redington Shores.
During our March meeting, the commission made the decision to suspend the 4th of July fireworks for 2022. The combination of past pyrotechnic vendor difficulties plus supply chain challenges for prospective vendors left the commission with no other option. We recognize that this is an important event for the residents of our town and we will continue to work with neighboring towns to reevaluate in the future. On a positive note, we are excited to announce that our traditional annual Town picnic will return once again to Constitution Park on Saturday, October 8th, 2022. Please mark your calendar and plan on joining your friends and neighbors for an afternoon of good times and great food.
For those who have driven by town hall on 174th, you may have noticed that our maintenance building is no longer there. Pinellas County had the building demolished as they began work on installing a sewer lift station. Once complete, the county will begin construction of a new shared EMS facility for the three Redington's with a maintenance facility our town will share with North Redington Beach.
In other construction news, we are in the final stages of undergrounding utilities on the east side of Gulf Boulevard and hope to begin the same process on the west side in about 6 months. Funds from the county's Penny for Pinellas program will serve as the primary funding source for the undergrounding project. Once complete, the investments should significantly increase our town's resiliency during a major storm.
And finally, if you would like to join us at any of the upcoming meetings, please note that our regular commission meetings are held on the second Wednesday of each month at 6 PM and our town workshop meetings are held on the last Wednesday of the month at 6 PM. You can always check our website or Facebook page to get updates on town events and activities.
Wishing you and your family a happy and safe summer!
Vice-Mayor/Commissioner Cinda Krouk – District 2

Disaster/Hurricane Preparedness
June 1st first begins Hurricane Season, and 2022 is expected to be an active one. Gulf waters are already 4° warmer than normal which contributes to a greater chance of storm development in the gulf. In order to prevent a last minute scramble to get supplies and leave quickly and safely, please create your plan and gather emergency supplies now! Disaster preparedness information can be found at Town Hall, our Library in Madeira Beach, and online at PinellasCounty.org/hurricane preparedness guide.
Please take advantage of our State Sales tax relief:
Hurricane Hardening Incentive, July1, 2022-June 30,2024 Tax free storm resistant windows, outside doors and garage doors. For detailed information go to: floridarevenue.com/taxes/tips/22A01-07.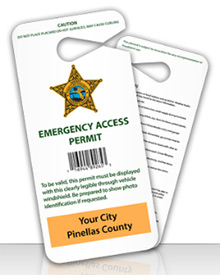 Please get your emergency re-entry passes at Town hall now (current passes have green writing). For safety and security, after an evacuation, re-entry to the Island is limited to residents with these passes. For re-entry, bar codes on passes will be scanned and verified with ID.
Please sign up for emergency alerts with Alert Pinellas. Link for registration is found on the Town website. If you need assistance stop in or call Town Hall.
Other news and Updates:
BeBot, a beach cleaning robot is coming to Pinellas County Beaches for the Month of July. Keep an eye out for this golf cart sized, solar powered, remote controlled robot as it shifts sand and collects small plastic pieces of pollution from our beaches.
District 2 Updates, Around the Neighborhood:
Our environment: Please, only rain down our recently cleaned storm drains.  Make sure grass clippings and other lawn or construction debris does not get blown or dumped into our precious intercostal waterway or storm drains.  Every ounce of care helps!
Emergency storm drain repair: Repairs are in progress throughout the Town, activity will be posted on the Town Website.  The work may cause temporary inconvenience in our streets and our neighborhood. Please be aware.
Neighbor to Neighbor: Please do not leave barking dogs unattended outside.  Turn off your bright outside lights after 11PM and/or when you are not actively using them.  It will save on your electric bill and be less disturbing to your neighbors
Recycling: Keeping plastic bags out of recycle bins and making an effort to rinse out your food recyclables will really, really help the recycling efforts at our St. Petersburg single stream recycling plant.
Fios: The disruption from the utility upgrade to fiber optic cable in our neighborhood was significant. FIOS indicates the work in our District is complete.  If you have damage to your property, or if it has not been returned to its pre-work condition, please contact the utility at: 813-205-4296
Board/Committee District 2 Representatives: Finance Committee: Bill Sanders (member) and Christy Herig (alternate); Planning and Zoning: CJ Hoyt; Huma Resource: Rich Perez: parks and Recreation: Michelle Ganio: Beautification: Loretta Fricks
Vision 2025/30: A Community driven Town vision initiative will begin late in 2022 or early 2023 to plan and set direction and goals for our Town 2025/30.  Your voice will be heard! More to follow
Charter Review and update: FYI Our town Charter is due for review and revision in 2023.
Call your Commish: Cinda Krouk 727-423-5185
Call your Town Administrator: Jeff Shoobridge: 727-241-0126
Thanks for all you do, and have the best Summer ever!
Commissioner Cinda Krouk
(727) 423-5185
Commissioner Later – District 3

Hello Redington Shores residents and businesses.  I'm Kenny Later and have been appointed as your new District 3 Commissioner. Some of you may know me as a local musician and entertainer, I guess because I've played the Redington Shores Town Picnic for last 10 or so years, but there's another side of me that you may not be aware of.
I have spent the last 35 plus years in the corporate world with the Medical Software industry, primarily in Sales Management running national sales teams.  One of the companies I helped build went from an $800,000 1st year to $1.5 B market cap by the time I left 12 years later.  I've traveled nationally, visited all but 3 states and am now retired from that life.
I've been a full-time resident of Redington Shores for the last 15 years since 2007, when I bought my house. I currently reside full time at 17723 Gulf Blvd., in District 3, and have done so for the last couple of years.
I am appreciative for my appointment as District 3 Commissioner because I wanted to serve my community and help Redington Shores grow into its potential.  I would like to promote events that would be unique to our town and help us stand out to be one of the most family, pedestrian friendly and desirable beach towns to live in Pinellas County.
I plan to hold Town Hall meetings with the residents from District 3 to listen and work with our citizens to help guide the town in the direction they want to go.  I look forward to meeting those of you I don't already know and hope you will participate with me as we move Redington Shores forward into the future. Additionally, District 3 has an opening on the Beautification Committee and the Finance Committee.  Please contact me if you would like more information.
Commissioner Kenny Later
Commissioner Blackburn – District 1

This time of year, we are usually rewarded with a breather after spring breakers & snowbirds return north. The Public Works staff can go back to their regular schedule and have time for special projects. But, possibly due to the current surge of new, permanent Florida residents (1,000 a day!), there's been no shift in the volume of beach trash so we will continue to staff a single truck for a few hours on Saturday or Sunday.
It's not just people flocking to the beach – it's also our feathered and flippered friends: Black Skimmers & Sea Turtles. Please be careful to avoid staked-off areas! Thank you to the Audubon Society & Tampa Bay Area Bird Stewards for their efforts to help Redington Shores be more hospitable to Black Skimmers & other nesting shorebirds. Also, thank you to Clearwater Marine Aquarium, the National Wildlife Federation & Florida Fish & Wildlife Commission for identifying, protecting & tracking Loggerhead Sea Turtles. Improving the sea turtle nesting habitat has always been the goal of our Sea Turtle Lighting Ordinance. The ordinance was recently revised to improve compliance, thanks to the tireless assistance of local residents, David & Emily Grimes. To help us with enforcement, the Archie Carr Center for Sea Turtle Research is donating a hand-held spectrometer for measuring light wavelengths so that we can work with property owners & visitors to reduce sea turtle disorientation.
Our town's Beautification Advisory Committee is officially on the books and will be meeting soon. The committee members will be advising the Commission on the aesthetic improvement of Redington Shores: our signage, public easements, town hall, parking lots & more.
Caulin Donaldson, a local resident, brought the Take-a-Toy/Leave-a-Toy to the commission after he noticed that much of our beach debris consisted of discarded beach toys. The idea of this recycling project is beachgoers can take a toy from the box when visiting the beach & return to the box for the next visitor. Two suitable locations have been selected for Take-a-Toy/Leave-a-Toy bins. We're just waiting for the stencils to arrive so they can be properly labeled.
Jennie Blackburn
Dist 1 Commissioner
(727) 470-0032
Commissioner Krajewski – District 4

It has been twelve months since the last newsletter, how time does pass! Our community, beaches and commercial establishments have been very fortunate to have weathered the last hurricane without significant issues. As we come out of the COVID-19 pandemic, we are all looking forward to enjoying our piece of paradise.
First, let me extend a sincere appreciation to the following District 4 residents for volunteering their time and talents to serve the town on the following committees:
Beatification – Rob Francour
Financial Advisory – Paul Herzfeld
Parks & Recreations – Emily Schrader
Personnel – Jill Weingart
Planning & Zoning – Lisa Foster and Merv Dickerson
Let me share a brief progress update regarding key projects where I have direct oversight responsibilities.
Town Sewer Infrastructure
As previously communicated, rehabilitating the town's deteriorating 64-year-old sewer Infrastructure is severely needed. The town commission has been very focused on addressing the cost of maintaining a well-functioning sewer system, as well as ensuring monthly service fees being charged to our community are accurate. Key to accomplishing these objectives are the completion of the assessment of the town's sewer system and addressing major repair work to town's owned sewer lines and manholes.
An assessment of the town's sewer infrastructure was performed to identify and eliminate rainwater and groundwater infiltrating the sewer system. Potential sources of infiltration identified include cracked sewer lines, offset sewer line joints, as well as leaky manholes and sewer cleanout connections. Based on the engineering firm's recommendations to the town commission, initial repair work started on April 18th with 17 mandatory/critical point repairs targeted for completion by June
30th, weather permitting. Please feel free to visit the town's website to view the target dates associated with the 17-point repairs that are scheduled for your neighborhood https://townofredingtonshores.com. The commission also agreed to a 3-month lease of a sewer meter, with an option to buy the meter at the end of the lease. This meter is being installed to monitor the billing to the town, by Pinellas County Utilities, for the processing of the town's sewage.
Town Stormwater Infrastructure
Project work has been completed to address stormwater runoff associated with sea level rise, king tides and heavy rainfall by televising and inspecting all the town's Storm Water Mains, Catch Basin (Inlets) and Outfalls at Seawalls. The report identified 43 stormwater point repairs needing immediate/mandatory repairs. The commission has agreed to proceed with these repairs.
Once work begins in June you will be able to follow the repair work scheduled for your neighborhood on the town's website.
June 1st officially begins hurricane season. Everyone's preparedness is appreciated. You can pitch in and help keep the town's stormwater infrastructure operating effectively and efficiently. Here are some helpful ways you can make a difference:
monitor your neighborhood storm drains/grates or curb inlets keeping them free of g., tree branches, tree leaves, cups, bottles, etc.
do not flush down the storm drains/grates or curb inlets, chemicals, grease, paint, liquid plaster, liquid concrete,
keep bottles, cups and other solid materials from entering the stormwater outfall openings at the sea walls
Please do not hesitate to contact townhall (727-397-5538) to report any water backing up into your homes, as well as excess water flowing into streets, driveways, and lawns. We are all in this together!
Financial Advisory Committee
This group has and will continue to play an integral part in the safekeeping of the town's finances. This committee will be engaged in the 2022-2023 Budget Process as well as be involved with special projects that are assigned by the town's commission.
Gulf Beaches Library Board of Trustees
I am humble and honored to have been elected by the Gulf Beaches Library Board of Trustees to serve as chairman. I encourage everyone to take advantage of our library; over the past months major additions have been made including the installation of 20 new personal computers, a new children's literacy computer, as well as renovations/upgrades to the Gulf Beaches Library (GBL) building and grounds.
A first for our town, the GBL Summer Children's Reading program will be hosted by our town on July 8th at 1PM, in townhall. This is a great opportunity for parents and grandparents to bring their children to Redington Shores townhall for this special children's program.
Additional GBL's events and programs can be viewed on the GBL website https://www.gulfbeacheslibrary.org/. The Gulf Beaches Library is part of the Pinellas County Library system serving our beach communities. Redington Shores, Madeira Beach, North Redington Beach, Redington Beach and Treasure Island, provide 40% of the annual budget to cover the daily operating expenses to run the library. The balance (60%) is provided by the Pinellas Public Library Cooperative.
Last but not least, I will continue to do my absolute best to carry out my fiduciary responsibilities by serving with integrity building strong relationships with the community. I welcome your advice and ideas to make Redington Shores the showcase of the Gulf Beaches, please do not hesitate to contact me directly.
Have a safe and enjoyable summer!
Commissioner Bill Krajewski
(727) 397-5538
Town Administrator – Jeff Shoobridge

I would like to extend greetings to the residents of Redington Shores.  My name is Jeff Shoobridge and I am your Town Administrator, I am tasked by your Commission to handle the day to day operations of the Town.  Please stay tuned to the Town website as I am planning a 'Citizens Government Academy' this fall/early spring that will cover Town operations, areas of responsibility, and an overview of government finance.  The things staff do on a daily basis is truly astounding when you look at the complexity and volume of tasks placed in front of them!  You will likely see some different processes in place with some aspects of Town Hall operations, I would ask for patience and understanding as we improve service to residents.
If you are or know of a resident that has served in the military, please contact Myself or Tracy at Town Hall as soon as possible so your service can be honored for Veterans Day this Fall.  Again, greetings to each of you and thank you for the opportunity to serve.
Jeff
Your Guide to Flood Information in the Town of Redington Shores