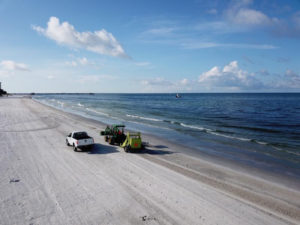 From Mayor Henderson:
After almost two weeks of extremely high levels of Karenia brevis ("Red Tide") noted in the Gulf waters of Pinellas County, the most recent readings for the Town of Redington Shores appear to show a meaningful reduction in the local harmful algal bloom. The result has been a noticeable decrease in respiratory irritations for those who visit our beaches as well as a significant reduction in the number of dead fish along the shoreline. For the first time in several weeks, the diving pelicans have returned – providing evidence that marine life has started to recover. With the improved air quality and significant reduction of dead fish, residents and visitors began venturing back onto the beach this past weekend. These are signs that life is hopefully returning to normal for our community.
The lower levels of red tide have also allowed the workers dealing with the cleanup to catch their breath over the weekend – literally. Between the shrimp boats working to collect dead fish before reaching our beach, the county contractors who walked the beach picking fish up by hand, and Redington Shores maintenance team members who drove the beach rake each day, the hard work really paid off in the form of a cleaner beach. A special thank you to Brad and Steve for their continued diligent efforts dealing with one of the most unpleasant jobs you can image as they collected and disposed of the fish on our beach.
The Pinellas County Environmental Management Division has served as an excellent resource for our beach communities during this process. They have secured an additional $2 million in funding from FDEP for the cleanup efforts associated with red tide. When we reached out to the county for assistance in dealing with the dumpsters, they increased the frequency of pickups and began tarping the dumpsters when not in use. Their responsiveness and communication with our town staff has been exceptional.
Speaking of dumpsters, we have had several follow-up questions regarding resident assistance with fish kill cleanup. For small collections of dead fish, you are welcome to double bag what you pick up and place them in your trash can for regular pickup on Monday or Thursday. If you would prefer to place in one of the county dumpsters, you can find their location by going to: http://pinellas-egis.maps.arcgis.com/apps/webappviewer/index.html?id=e0ea33ef88884d10b5a381a71b8c0fc9 . If you notice a significant fish kill in your area, you can use the following county web page to create a report: http://www.pinellascounty.org/environment/watershed/red-tide.htm . Regardless of whether you are on the beach to help with cleanup or simply enjoying an evening walk in the sand, please remember that the recent red tide has left sharp fish bones at or below the surface of our beach. Some form of protection for your bare feet is strongly recommend for anyone walking on the beach for the next few weeks.
For any local businesses that have been impacted by the red tide, please note that the U.S. Small Business Administration (SBA) recently announced the availability of Economic Injury Disaster Loans for businesses in Pinellas County. The SBA Business Recovery Center for Pinellas County will open on Tuesday, September 25, 2018 at 11:00 a.m. to assist with completing applications for impacted businesses. Business owners are encouraged to attend the upcoming SBA session located at 13805 58th St N. Suite 2-200 in Clearwater.
And finally, the Town of Redington Shores has a number of exciting upcoming events – including our beach renourishment project as well as our annual Town Picnic on Saturday October 13th. We will also be rolling out a new resident communication platform in partnership with Alert Pinellas. I will be sending out updates along the way so please stay tuned for important developments.
Now get back out there and enjoy your favorite beach! 🙂