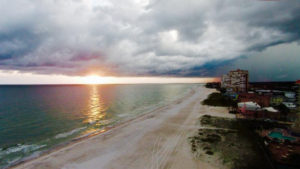 Welcome to Redington Shores and our beautiful beach, we hope that you enjoy our beach.  If you find that the previous visitors have not been as courteous as you, your assistance in picking up the beach would be very much appreciated!  It's an activity that most local beach-goers practice.  Below are some necessary rules to maintain our beautiful natural resource – THE BEACH!
NO VEHICLES OR SLEEPING OVERNIGHT ON THE BEACH
Operation of vehicles on beaches prohibited, a self-propelled bicycle shall not be deemed to be a motor vehicle or vehicle.
It shall be unlawful for any person or persons to camp on, sleep on between the hours of 12:01 a.m. and 5:00 a.m. or otherwise use for habitation any portion of the public beach or other public property within the Town of Redington Shores.
ABANDONED PROPERTY ON BEACHES
It shall be unlawful for the owner or any person placing or causing to be placed any chair, lounge, tent, canopy, volleyball net or other such item upon the public beach, or within any of the public beach access areas, to allow such to remain upon such public beaches, parks or other public property from one hour after sunset through 8:00 a.m.
Any chair, lounge, tent, canopy, volleyball net or other such item left on the beaches, parks or other public property, including the public beach access areas from one hours after sunset through 8:00 a.m. will be considered abandoned property, and subject to confiscation and disposition by the town.
GLASS CONTAINERS PROHIBITED ON BEACHES
It shall be unlawful for any person to possess or to allow to be possessed, on or along the sandy area of the Gulf Beach, or upon any beach or shoreline or waters adjacent thereto or within any easements leading thereto, any glass containers. No alcoholic beverages allowed on beach.
HELP KEEP OUR BEACHES AND WATER CLEAN
Small litter such as gum wrappers, bottle caps, straws, and cigarette butts may seem harmless, but in reality they accumulate over time and pose a threat to the environment and our economy. We see all these types of trash and more on our beaches, but the litter that requires the most attention is cigarette butts.
Discarded cigarette butts in the streets are a problem too, and they can affect our beaches as well. Butts can be carried as runoff from streets into our storm drains. These drains lead to our waterways and eventually to the gulf and so those butts can end up on our beaches!
Litter on the beach also negatively impacts our economy because it is unattractive to tourists.  Since our beaches are attractive to tourists and neighbors alike and the nearby businesses depend on people visiting our beaches, it is important to keep them clean.  Please do your part and properly dispose of your cigarettes and all trash in a provided waste receptacle on the beach.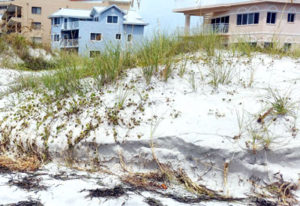 SAND DUNES
Protect them!  The dunes, which are the mounds of sand on the landward side of the beach, are the barriers that protect properties from high tides and storm surges.  Many of the dunes rely on vegetation to stay in place as both wind and water work on relocating them.  Please stay off the dunes!  It is the law.
NO DOGS OR ANIMALS ALLOWED ON BEACH
Violators subject to fines up to $500.00 per each offense and/or up to 60 Days in Jail! Your pet may also be taken into custody and turned over to Animal Control Services. Town Ordinances prohibit all animals from being on the beaches of Redington Shores and Indian Shores.  Only legitimate "Service Dogs" (as defined under the ADA and Florida State Statute) are authorized to be on the beach and must, unless specifically allowed by Statute, be on a leash at all times.  "Emotional Support" and "Comfort Dogs" are not permitted on the beach.
Failure to clean up/remove your animals' excrement is a separate offense and subject to an additional fine up to $500.00.
Intentionally Misrepresenting your pet as a legitimate "Service Dog" is a violation of Florida State Statute §413.08 and is punishable as a 2nd Degree Misdemeanor.  Violation of this Statute may result in an additional $500.00 fine and/or incarceration for up to 60 Days in jail.
NO FIREWORKS ARE ALLOWED ON THE BEACH