Redington Shores Parking Passes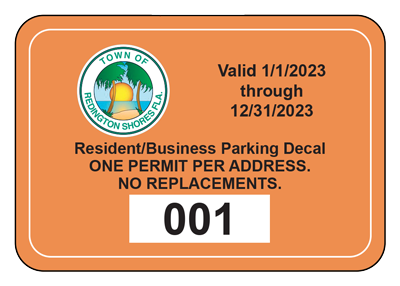 ELIGIBILITY: One free sticker per residential property will be issued to residents/property owners who provide proof of residence/ownership. Two free stickers will be issued to businesses that occupy commercial property
EFFECTIVE: January 1st -December 31st. Parking passes must be renewed every year.
USE: To provide permitted parking in Town owned parking lots / In lieu of meter fees at all metered town parking lots in the Town of Redington Shores
LOCATIONS:
Metered parking spaces at Constitution Park on Sunset Blvd

Metered parking lot on the West side of Gulf Blvd between 177th Terrace W and 178th Ave

Parking spaces along 180th Ave W near Lighthouse Point Condominiums
USE GUIDELINES: All stickers for residential use must be affixed to the exterior of the driver's side rear window of the vehicle. Use of tape or any other temporary adhesive material will not be accepted. Stickers for commercial business use only must be displayed on the driver's side of the front windshield. Use of temporary adhesion is permissible.
PASSES ARE NOT ELIGIBLE FOR USE AT COUNTY METERED BEACH ACCESS PARKING LOTS OR PARKING IN ANY OTHER MUNICIPALITY OUTSIDE OF THE TOWN OF REDINGTON SHORES
PLEASE BRING PROOF OF RESIDENCE/OWNERSHIP TO TOWN HALL, ALONG WITH A COMPLETED APPLICATION.
DOWNLOAD APPLICATION HERE: Parking Sticker Pass Application or click button below.
Parking Citations
You have the option of paying the fine amount or requesting a hearing to contest your citation within 15 calendar days of the date of the citation. Present the citation in person at Town Hall or send a check or money order made payable to "The Town of Redington Shores" to:
Town of Redington Shores
Parking Citations and/or Ordinance Violations
17425 Gulf Blvd.
Redington Shores, FL 33708
If paying in person at Town Hall, we accept cash, check, money order, and credit card. A 3% convenience fee will apply to all credit card payments. Do not send cash by mail.
To Dispute Your Parking Citation
To dispute your parking citation, download, complete, and sign the form below and email it to townclerk@RedShoresFL.com OR hand deliver it to Town Hall, OR mail it to:
Town of Redington Shores – Town Clerk
Parking Ticket Dispute
17425 Gulf Blvd.
Redington Shores, FL 33708
When we receive your dispute form, your citation is placed on hold in our system. Your dispute form is then reviewed and send to court for a hearing. The Pinellas County Clerk of the Court will contact your via mail to the address you provided on the form. Please note – It may take the court several weeks to contact you. Once the hearing is complete, the court will either set the fine amount that you must pay or will dismiss/void your ticket.
FOR FURTHER ASSISTANCE, PLEASE CALL (727) 397-5538