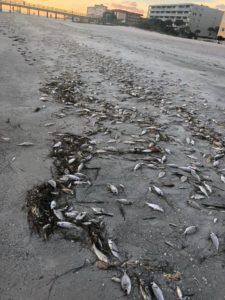 As you may have heard over the last few weeks, Southwest Florida continues to experience an unusually high level of the red tide organism known as Karenia Brevis. Although the Gulf waters off our beaches have shown relatively low levels of the algale bloom through August, we are now clearly seeing the devastating impact on our marine wildlife. Over the last few days, a significant fish kill was noted in the Town of Redington Shores as well as most beach communities in the area. As part of our effort to provide timely updates to our residents, there are a few items we would like share.
Clean-up Status: As soon as the first fish kill reports started coming in, our town staff began a coordinated effort with Pinellas County officials to begin the cleanup. Redington Shores beach rakes began their sweeps of the beaches Monday morning and we have made arrangements to have dumpsters placed in two staging locations for disposal (the Public Beach Access parking lot at 18200 Gulf Blvd and the town public parking lot off 178th Ave W). Pinellas County Emergency Management has designated 3 access points for the equipment that will be used to transport the fish to the dumpsters. In addition, the County has contracted with several vessels (shrimp boats) to harvest some of the dead fish before it washes onshore. Between the county contractors and the Town of Redington Shores maintenance department, we will continue working diligently to remove all dead fish from our beach.
We have received offers of assistance from several residents who wanted to do what they could to help clear any dead fish from our beach. Although we are working with the county to determine the exact requirements of collecting and disposal, please feel free to contact town hall at 727-397-5538 to sign up if you are interested. Disposable gloves, masks and trash containers will be provided.
As a reminder, all residents and visitors should take precautions when going near the beach during a red tide. Common symptoms may include:
Eye, throat or skin irritation
Coughing or sneezing
Symptoms can be more severe for people with serious respiratory issues
Those with asthma or a respiratory condition should avoid the beach if possible. Please note the following general warnings:
Never touch or swim near dead fish
Always wear shoes to prevent injuries from stepping on bones of dead fish
Keep pets away from water, sea foam and dead fish
The Town of Redington Shores is committed to doing all that we can to address this critical issue. We will continue to provide updates over the coming days and provide necessary information on any red tide developments that impact our community.
For state and county updates on red tide conditions, you may visit the FWC site at http://www.myfwc.com/redtidestatus or the county site at http://www.pinellascounty.org/environment/watershed/red-tide.htm