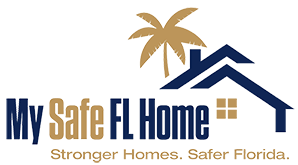 Attention Redington Shores homeowners! Get readier for hurricanes with the My Safe Florida Home program! The My Safe Florida Home program was enacted by the Florida legislature to help single-family homeowners protect their homes against hurricanes and save money doing it!
Get a Free Home Hurricane Inspection
Owners of any site-built, single-family residential Florida property may apply for a free home hurricane inspection.
Complete Home Hurricane Inspection of your single-family home at NO COST and NO OBLIGATION to you.
Receive an inspection report detailing the strength of your home against hurricanes and recommended improvements to increase that strength.
Apply Now
Get Home Strengthening Improvements
When recommended by your home hurricane inspection, program grant money has been made available for the following strengthening improvements:
Roofs & Structure
Reinforce Roof-to-Wall Connections
Install Secondary Water Resistance for the Roof
Upgrade Roof Covering
Improve the Strength of Roof Deck Attachments
Openings
Exterior Door Upgrades
Garage Door Upgrades
Window Upgrades
Get Purchase & Insurance Savings
The program was created to strengthen Florida homes against hurricanes and save Florida homeowners money.
You may be eligible to apply for $2 in state grant money* for every $1 you spend on eligible home strength improvements (*up to $10,000, the home must be located in designated wind-borne regions).
NO state sales tax (6%) on retail purchases of impact-resistant doors, impact-resistant garage doors and impact-resistant windows from July 1, 2022 through June 30, 2024.
Potentially lower your home insurance premiums by participating in the program.
For detailed information on the My Safe Florida Home program, please click here.