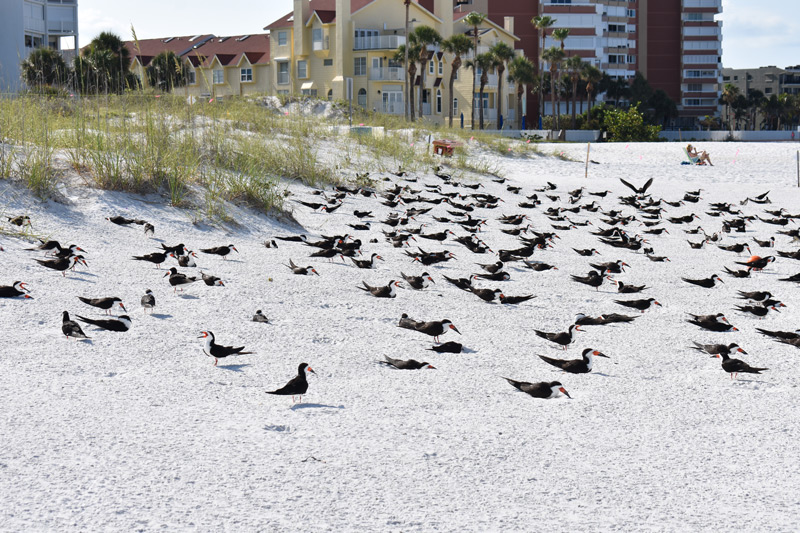 If you have not yet had a chance to meet the 2023 Redington Shores Black Skimmer colony, allow us to introduce you! They began settling down in early May in the bustling area of the public beach access. The colony has grown to about 400 birds and at this point they have about 110 nests!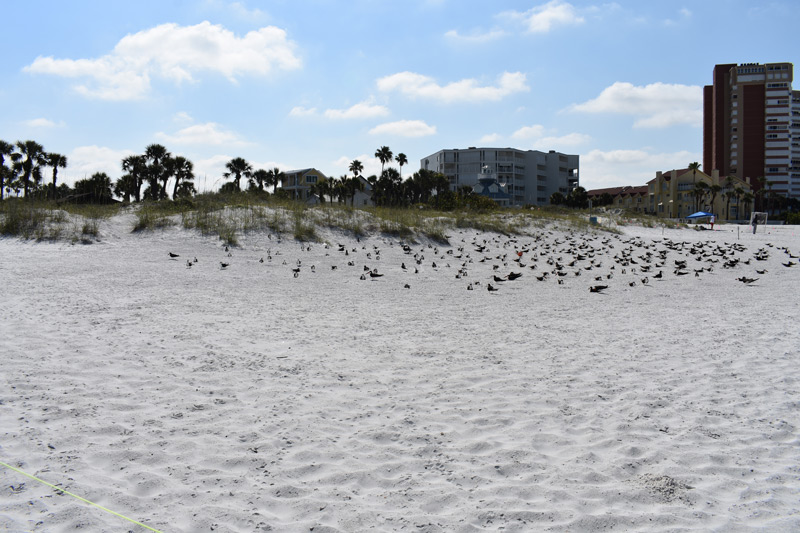 Settling down in between the two public beach accesses has unfortunately made them subject to many disturbances from people and predators. Volleyballs, footballs, beach balls, trash blowing away from beachgoers, and small children that got away from their parents are just a few examples of things that have made their way through the posted area and into the colony. These types of things cause the skimmers to flush away from their nests and leave their eggs vulnerable to predators like crows and gulls. Dogs, kites, drones, paragliders, and even shaking sand off a towel too close to the colony will also cause the birds to flush.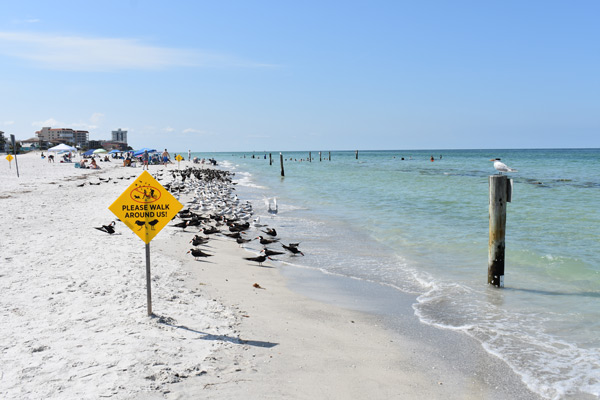 During the heat of the day, the skimmers like to go down to the water to cool off. You'll see that a large portion of the colony (those who are switching off shading eggs with their partner) hang out by the shoreline for most of the day. It gets very hot up by the dunes, and it's important for them to have this time by the water to cool off. Walkers and joggers down by the shoreline are cause for disturbance to the resting skimmers. Being mindful of this and walking up on the beach and around the resting birds will greatly reduce stress. Remember if the birds are moving or flying away from you, you are too close!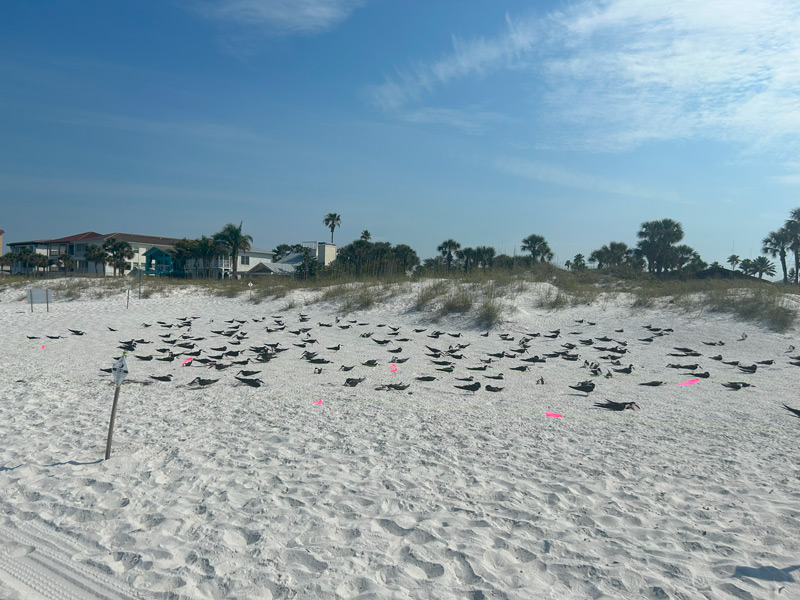 The residents and visitors to Redington Shores have been very supportive of the skimmers and are helping them along their way through the nesting season. With Memorial Day coming up this weekend, the number of potential disturbances to the birds is expected to be much higher than usual, and they need your help! To help keep the skimmers and their nests safe, please keep your distance and be mindful of anything that may disturb the colony. Secure all trash and beach balls, remind children to give the birds space, and keep all dogs off the beach. Volunteer bird stewards will be out educating the public about the birds to help minimize the amount of disturbances to the skimmers.
Interested in helping the Black Skimmers? Become a bird steward with Audubon Florida! You can help educate the public and help the birds through nesting season. We are always looking for volunteers and will need as much help as possible for the Memorial Day weekend. If you'd like to learn more about the stewardship program, please email Holley Short (holley.short@audubon.org) or visit www.FLbeachbirds.org.