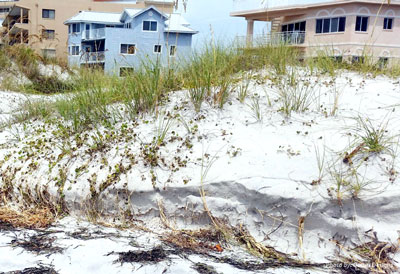 Great news for our residents and beachgoers! Pinellas County is working on emergency projects to renourish our shorelines and reconstruct our dunes.
Residents are being discouraged from attempting to implement small scale projects on their own. According to the United States Army Corps of Engineers (USACE), hardening the shoreline is not ideal. Further, if the work is performed without the appropriate authorizations, it may impact the County's proposed work. The County is working on communications to ensure property owners know that they are moving forward with an emergency project to shore up the most impacted areas, which will include temporary sand stabilization structures, dune reconstruction, or a combination of both, depending on site-specific needs. We are already in design and the survey work is complete. This process is moving ahead as quickly as possible.
UPDATE (9/18/2023)
The Clearwater Marine Aquarium wants residents to know that earth-moving work on the beach under the state emergency order must follow the after the fact CCCL permitting requirements and sea turtle protections. Additionally, work may require permits from Pinellas County and/or your local municipality.
Notifications for sea turtle clearance: have each individual call 727-479-5564.  This is the direct number to CMA's patrol team.  The caller will need to identify who they are, what they are doing and  what address they require clearance for.  This must be done EVERY DAY they plan to do work, not just a single time for multiple days of work.  If they do not adhere to this, we are required to report them to FDEP.
Please be aware that property owners are NOT to place sand in their dune line, as nearly every property owner has done just that thus far. Also, debris and rubble may not be placed on the beaches for any reason. We have seen this done as well.  Both of these actions can potentially negatively impact any additional marine turtle nesting that may occur through the rest of this nesting season.